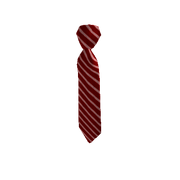 A
ROBLOX Tie
 is a
Hat
in the shape of a tie and is worn around your neck instead of on your head, like most hats. Most ties are as simple as the
ROBLOX
Logo on a colored background, but some can be more complex, such as the Art Tie and several Bowties.
Types
A list of all ties, and special ties:
T-Shirt Tie Cheat
Some players have modified Ties and uploaded them as T-shirts. These T-shirts give the same look as a person wearing a real tie without actually buying the tie.
Ad blocker interference detected!
Wikia is a free-to-use site that makes money from advertising. We have a modified experience for viewers using ad blockers

Wikia is not accessible if you've made further modifications. Remove the custom ad blocker rule(s) and the page will load as expected.