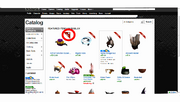 A timed item is when an item will be set until the day that it will be off sale. Once the item goes off sale, nobody can buy the item. Sometimes, the item might become a
Limited
item, depending on what the ROBLOX team decides. On one of the catalog items, there will be a timer near the price. The timer will still keep
decreasing until it reaches 00:00:00.
Glitches
When buying a rental gear item immediately before it became a rental, and timed gear, the player can keep the gear forever.
Ad blocker interference detected!
Wikia is a free-to-use site that makes money from advertising. We have a modified experience for viewers using ad blockers

Wikia is not accessible if you've made further modifications. Remove the custom ad blocker rule(s) and the page will load as expected.