Ultimate Build
Talk

0
2,759pages on
this wiki

Ultimate Build
Creator
B00BA (backup: 1337h4xorz)
Visits
4,409,938 (1,337h4xorz: 61,113)
Favorites
109,236 (1,337h4xorz: 1,602)
Firsts
None
Prizes
None
Genre
All Genres
Max Players
6
Ultimate Build
was an extremely popular sandbox building game originally created in 2008 by the player B0BBA. This place was the most popular place of B0BBA's and has brought him to much attention in the ROBLOX spotlight.
Due to an extremely recent exploit, the place was shut down by B0BBA and will continue to be shut down until the ROBLOX's exploiting issues have been adressed. For now, however, the Ultimate Build place has been replaced by another place called "Menger Sponge".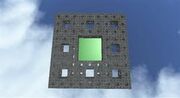 The place itself contained a large green baseplate with piles of bricks with which players could feel free to build whatever they felt needed be built. Players were supplied with "special" bricks such as seats, thrusters, hover-bricks, and were also supplied with car and plane chassis. Players were, in addition, provided with simple building tools that could resize, clone, delete (and say that you deleted a item), move, anchor, and lock bricks, in order to allow the player to fine-tune their creations to the most precise extent. In addition, there was a special "VIP-Only" island which could only be accessed by players which wear the VIP shirt sold for Ultimate Build.
B0BBA has promised to add more "modern" building tools and materials to the game in 2012, however due to the place being shut down, this promise has not yet been fulfilled. A backup of the game is made by 1337h4xorz.