This page needs improvements to meet the ROBLOX Wikia's standards.
This article needs a complete rewrite or cleanup to meet the Roblox Wikia's quality standards. Please proofread this page and edit this to make it revamped. The specific problems are: Formatting in titles, grammar mistakes, extensive use of ROBLOX, bias and advertising.
United Roblox of Indonesia
, also known as URI is the largest Indonesian Group on
Roblox
. This group is responsible for Indonesia's unity by collecting Indonesian players. The Group was founded in 2011 on
Facebook
and 2013 on ROBLOX. The Group's Founder is
maulanaasgaf
and
bryanltss
.
History
Formation (2011-2013)
Indonesians began appearing in 2008, most of them at that time knew it through Internet Ads and friends inviting them. By this time Indonesians are mostly seperated and only local groups existed, communication in between groups are almost impossible to achieve. On several occasions Indonesians might found each other by saying Indonesian greetings on a game, or by putting the word "Indonesia" on their profile description, so that they're searchable.
The first form of URI, a unity of Indonesia was founded on Sunday, August 14th 2011 at 5:30 AM GMT +7 on Facebook. At first, URI was named "Roblox Indonesia", as the purpose is only a community group for gathering Indonesians so that they can play together. Even a year after it's formation, Members on Facebook haven't reached 100 yet.
On February 2013, The Founder, maulanaasgaf, decided to change the group name to "United Roblox of Indonesia" Because "Roblox Indonesia" will become a mainstream name in Facebook if ROBLOX become a lot popular in Indonesia, which was proven in 2016.
On Wednesday, April 3rd 2013 at 4:00 PM GMT+7 United Roblox of Indonesia was made a group by bryanltss, a friend of maulanaasgaf that has Builders Club at that time. Within minutes after it's creation, members reached 20.
Stamper Age (2013-2014)
URI continued to expand during this period, Most people from this age found URI by searching the keyword "Indonesia" on Group Search. URI made Personal Server 1 in summer 2013 as the base of the group's activity, which was used for meeting, speech, and other things. URI supported other Indonesian Groups like Angkatan Udara Republik Indonesia,Indonesian Soldier Legacy, and Garuda Indonesia. URI also held events like Indonesia's Independence Celebration, 2nd Anniversary of URI, and play Games together.
URI also launched it's President Program to replace the Founder's duty to manage the group. With Vice President and Ministers as the President's assistant. URI also formed Creative and Intelligence Team for supporting URI's program like events and other stuff. In the early of 2014, Indonesian Civil War broke out as Garuda Protector and AURI, Indonesian Batik Soldiers, and Roblox Military Forces of Indonesia fought to be the official military of Indonesia. URI acted as the mediator and was successful in stopping the war with the creation of a combined entity called Indonesian Special Forces. By the end of this age, URI members had reached about 1000 members.
Development Age (2014-2016)
After The Indonesian Civil War ended, most Indonesian Groups are united and prosperous. LeeLiQs, former IBS Soldier which later will become the Administrator of URI, offers the founder to make URI Hangout, a place of his creation, as the official group place of URI. The Founder accepted the offer and made LeeLiQs as the President of URI. After the supposed end of LeeLiQs's rule, his contribution for URI was so high that The Founder made him the Absolute "Administrator" of URI. URI then opened URI School in 2015 for educating Indonesians so that they have specialties on ROBLOX. URI School was founded by President Dafp also known as for his character nicked Dafinkanaf , During this age URI held a lot of events to make Indonesians comfortable in URI.
Member Boost (2016-2017)
In January 2016, URI collaborated with a famous Youtuber in Indonesia, Gamersejati. The Youtuber attended an URI Event and as the result, Members tripled from 2500 to 10000 by the end of the year. URI also held a national competition called URI Model Show, which aimed to show Indonesia's Creativity to the World. It was attended by several countries including Malaysia. URI also ended the President Program, and changed the group system to Organization System. With URI Hangout being 2 years old and getting older, a replacement, URI Hangout II, was launched in December 2016. After that URI came into focus towards the development of Indonesian Ro-Nation, which URI helped by increasing it's members, investing in Capital City of Jakarta , and made educational videos about Ro-Nation. URI Also held 3rd real life meetup in Jakarta, January 7th 2017 at Gandaria City Mall. With the previous others in mid 2015 at Central Park, Jakarta and mid 2016 in Semarang, Central Java.
INDONESIA VIRTUAL (2017-Present)
Since their existence in 2013, URI has played a huge part on the development of the official Ro-Nation of Indonesia. The Founder of URI was interested in the roleplaying of government systems and foreign affairs, that can actually teach Indonesians International Politics at an early age and in a whole new different way. URI supported the first Ro-nation in Indonesia,
[IND
Republic of Indonesia]  after they introduced it to the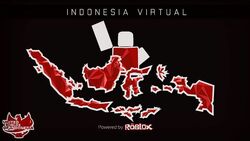 Founder. URI supported two other Ro-Nation groups after IND was hacked, [INA] Republic Indonesia, and
[NKRI
Republic of Indonesia] before supporting the present Ro-Nation, ID | Republic of Indonesia. The presence of URI in Ro-nation development made most government employees to be real Indonesian, this is a rare case when a Ro-nation is actually controlled by their real citizens. Also URI is still responsible for Internal Affairs and made Ro-nation as a bridge between URI and the International world. In December 2016, URI launced "INDONESIA VIRTUAL" program in hope for a stable, virtual country of Indonesia by 2018, with URI itself focusing as a central discussion for Indonesians and also as a source of entertainment by launching a Youtube Channel with various contents, like events, mini-
series, comedy videos, etc. Despite few setbacks in late 2017, when a depression caused NKRI to fall, which had a huge effect to URI as Indonesia Virtual program was nearly declared a failure and corruption of funds started to happen. This left URI in a near death situation and nearly closed itself in early 2018. With Indonesians reactivating URI and local groups starting to support Indonesia Virtual, URI rised back and did a partnership with the current Ro-nation of Indonesia, ID | Republic of Indonesia to resume Indonesia Virtual program.
Presidents & Vice Presidents of URI
Presidency change once every 6 Months. Election was held in facebook group until The 2016 Election,
was held in URI Hangout and it was the last election ever.

List of URI president:
| Year | Semester | President | Vice President |
| --- | --- | --- | --- |
| 2013 | 1 | Afokmelot2 | znielz |
| | 2 | Diablomon12 | EnVaGeLiNeVaLieStYa |
| 2014 | 1 | Kuro007 | Afokmelot2 |
| | 2 | LeeLiQs | mike203skr |
| 2015 | 1 | Dafp | idontknowwhoim |
| | 2 | TheSilentKicker | StealthCombative |
| 2016 | 1 | TheYoungGod | idontknowwhoim |
| 2018 (Ro-nation) | 1 | KieranPurnama | SmokingCobain |
The Presidential system were discontinued due to protest of the system for being useless and since 2018, URI recognized Indonesian Ro-nation President as the President of URI.
Facility
Was published in July of 2014, This game become the center of all activity in the group. It has 36,000+ visits. Features:
Ceremony field
Cafe
Two meeting rooms
Offices
Monument
Court Room
The game was closed in December 2016.
Was published in late 2016, has 42,000+ visits. This game replace the old Hangout. It has the same features as the original hangout with some changes.
The place was closed several times but it's currently left open without changes ahead. Soon to be replaced by Bali Beach Hotel.
URI School is a program created by United Roblox of Indonesia to teach members on various things. There are several lessons teach in URI School Including :
GFX
Building
Scripting
Cinematography
Ro-Nation
This Program is currently discontinued and the place was given to Tarsius Studio, an Indonesian entertainment group for filming needs.
Bali Beach Hotel
An upcoming project made for the second, Indonesia Model Show 2018. It will have a hotel and a beach visualizing the real Bali. Coming in July 2018.
URI Entertainment
A body inside URI that is responsible for Entertaining Indonesians. URI Entertainment makes videos on Youtube like Sketches, TV Shows, Short Films, and Event Filming. URI Entertainment position :
GFX
Cameramen
Actor
Properties manager
Editor
URI Entertainment went bankrupt in late 2017 and in mid-2018 was reactivated and rebranded with Tarsius Studio as the main partner.
Economy
Funds/Donations
URI created donation for group funds which later on used for Staff's Salaries. The donation divided in to six categories:
Gallery