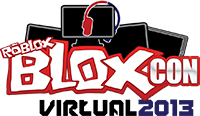 Virtual BLOXCon was an event that took place on 21 September 2013 and started at 9:45am Pacific time and ended at 3:00pm. It featured Livestream features, like the Hall of Fame, Question and Answer Sessions, Upcoming Productions, and Livestream Gaming by the developers. It also featured a World Tour Stage and a Game Stage
Purpose
The purpose of Virtual BLOXCon was, as stated by the ROBLOX team,
"

Only a small fraction of ROBLOXia's population had the opportunity to attend the sold-out BLOXcons in person this summer. As much as we'd like to show up in every town and throw a live BLOXcon for you and your friends, we haven't yet mastered the technology or hired the couple thousand minions we'd need to make that possible. Instead, we're going to show up via the series of tubes that are The Internet on Saturday, September 21st for a virtual BLOXcon!.

"
The event started roughly at 9 a.m. Pacific Time. ROBLOX players from all over the world could watch the Virtual BLOXcon 2013, and play with featured staff members.
[1]
Ad blocker interference detected!
Wikia is a free-to-use site that makes money from advertising. We have a modified experience for viewers using ad blockers

Wikia is not accessible if you've made further modifications. Remove the custom ad blocker rule(s) and the page will load as expected.