WIJ
Talk

4
2,755pages on
this wiki
WIJ
Owner
SilentSwords
Members
Around 50,000
Diplomacy
Allies
Description
A science-fiction military group.
Information accurate as of 18/05/2013
WIJ
is a
militaristic group
created with heavy Sci-Fi influences. They are known for their unique and advanced technology and weaponry. The word 'WIJ' itself does not stand for anything, but, according to the group's description, "In the Dutch language, WIJ stands for Us and We". It is also rumored that the word WIJ comes from Silent's last name.  The group rapidly expanded in the spring of 2011, from about 1000 members to more than 30,000. It is currently the eight largest war group on ROBLOX, after
F.E.A.R.
,
Team Domino
,
Vortex Security
,
R.A.T.
,
John's Cobras
, 
Sleet Clan
 and
T.R.A
.This is most likely due to very popular places created by the group's owners and co-creators,
SilentSwords
and Owen0202, for WIJ. In early 2013, for the first time in two years, WIJ fell off the front page of groups, being surpassed in members by
The Raven Empire
. After the release of the second version of the group's primary fort, Outpost Indigo II, the group gained over 8,000 members, and became the ninth largest group on Roblox.
The predecessor to WIJ was a group known as SSCORP.
WIJ's ranking system works in a remarkably different way than most groups: SilentSwords (mostly referred to as Silent or SS) has made a Mainframe with an account for every single WIJ Member. This contains a report of them at bases and training, entered by Officer+. It also has Career Points "cP" that let you raise your rank when you reach a certain amount. Vortex Security once used a similar system that involved cP.
Even though they declare themselves a space federation, WIJ has a very small space fleet for the size of the group. As of this writing, two space cruisers have been built, and one space cruiser is under construction. In fiction however, WIJ is a coalition of worlds who work together to achieve peace. There is a huge fiction backstory behind WIJ. SS has stated that because of the group's age, he has wanted to first fully develop the ground bases and weaponry before going space-ward.
WIJ weapons are unlike any weapons ever made by any clan. These are the first guns on ROBLOX to ever be battery-powered. Each time they are overheated, their battery life will go down, until the gun dies, or the player is killed. Once the player is killed, the gun has 100% battery life. Weapon Type: Directed Energy Weaponry
Y14 Handgun/Phaser PistolEdit
Standard issue sidearm to all WIJ troops. Also the first weapon that raiders acquire. Medium damage and range. It can deal a good amount of damage to longer-range targets where the W17 becomes less effective. This gun is accessible to every player at WIJ bases.
W17 Assault RifleEdit
WIJ's main service rifle. It fires 8 shots per second, and it's damage per shot is slightly lower then the Y14. It also has slightly less accuracy. Mostly used in close-quarters engagements.
T11 Tactical Shotgun/Disruptor PhaserEdit
Close quarters powerhouse. Incredibly lethal at point blank range, and is often used for clearing rooms. Obtainable at Indigo II at INDG-10 with 10 kills. Tested and develped by killme2013alot.
SUF Sniper RifleEdit
Used by WIJ marksmen to neutralize targets from great distances. High damage and accuracy. However, it is often used in close range, like a W17. This is why SilentSwords nerfed it, so it does no longer cause an instant kill. An update for Indigo II has nerfed the SUF where it's a three hit KO and medium reload weapon. Obtainable at Indigo II at INDG-30 with 30 kills
SKP Submachine Gun/AutophaserEdit
A specialist weapon that has the highest rate of all the WIJ weapons, excluding vehicle weapons. It can be extremely deadly at close range. It's good traits are balanced with it's negative ones, though. The SKP is the least accurate gun, and, because of it's high rate of fire it runs out of battery very quickly. Obtainable at Indigo II at INDG-7 with 7 kills.
AT Antimatter/AV Charged PhaserEdit
An anti vehicle Phaser, though often used against groups of troops. It highly resembles the "Spartan Laser" from the Halo Universe. Obtainable at Indigo II at INDG-30 with 30 kills.
B55 Marksmans Rifle/Burst RifleEdit
A marksman rifle, highly accurate. Semi-Auto fire. Also enjoys widespread use by WIJ forces. Obtainable at Indigo II at INDG-5 with 5 kills.
G25 Triggered Grenade Launcher *Removed as part of wARC*Edit
Fires grenades that can be detonated at the trooper's will. Often used in ambushes.
REX Chaincannon/Rapid Phaser Minigun *Removed as part of BiB, brought back as part of wARC"Edit
A truly deadly weapon. Rarely used by WIJ as it is considered "unsporting". It has high rate of fire, huge clip size, and great accuracy, which is why the REX can only be used by WIJ High Command. Only obtainable at Cobalt, Indigo I and Indigo II.
Dual SKP Submachine Guns *Removed as part of BiB Replaced with SKP[s]*'Edit
Alike to the singular SKP, this pair is only for Shock Troopers. Each SKP targets the center point, and will cross over one another after a certain point. It's damage per second is exactly the same as a single SKP,.(This is now only obtainable at Indigo until Indigo is re-mastered.)
Dual Y14 Handguns *Removed as part of BiB Replaced with Y14[s]*Edit
Alike to the Dual SKP Submachine guns, these handguns come in partners only for Shock Troopers. With deadly accuracy, a good troop can even take out two men at once. Only obtainable at Indigo (Until Indigo gets re-mastered)
D01 Orbital Target Painter/Target Designator *BiB and wARC only*Edit
Possibly the deadliest "weapon". Mostly available to colonels only (But also to WIJ members with 9400 credits at Vermillon), the D01 sets a target for an orbital cannon to shoot at, and kill all people in range. This is the only WIJ weapon that has the ability to team-kill. Unable to achive at Indigo II unless Colonel or above.
SWD Charged Plasma Sword *wARC only*Edit
A modified version of the regular sword, this sword takes up to 2-3 hits, obtainable at INDG-1 and 3 kills.
L95 Light Support Weapon *wARC only*Edit
With machine gun like properties, it has a fast firing speed; low damage and slightly inaccurate at long ranges, it's main purpose is short range combat, obtainable at INDG-15 with 15 kills.
C22 Dual Handcannons *wARC only*Edit
The ammo has the same spread as the T11 (great in close combat situations) and able to fire twice before reload-like stop, obtainable at INDG-25 with 25 kills.
F99 Plasma Charger *wARC only*Edit
A very short range with medium damage weapon, must be very close to the enemy to inflict heavy damage, obtainable at INDG 40 with 40 kills.
R87 Charged Railgun *wARC only*Edit
The best weapon you can probably get at Indigo II other then the D01 and the REX, it has a medium fast firing speed and medium damage, obtainable at INDG-45 with 45 kills. This gun is similar to the Asymmetric Recoilless Caribine-920 in Halo 4.
Space CruisersEdit
Because WIJ is a space themed group, space cruisers have been made by SilentSwords. Thus far, 1 has been completed, and two are under construction. More information about the other Space Cruisers coming soon.
WSC DeferiotEdit
WIJ's oldest and only completed Space Cruiser. It is a rather old space cruiser, and SilentSwords has stated that he now considers the ship to be outdated. It is small, containing only a couple of tiny rooms. The front of the ship, where players spawn, is a control room. Towards the back, there are the small hallways and rooms, most of which are empty.
WSC Moirades [Under Construction]Edit
One of the most well known Space Cruisers in WIJ. The ship orbits WIJ's home planet. It is being worked on as a part of the bigger project BiB. Players spawn in the front of the ship, which contains the control room of the ship. The ship also contains a meeting/conference room, a lobby, and several meandering hallways. It is somewhat complete, but work still needs to be done on the ship in order for it to be completed. A majority of the ship is still under construction.
Most bases in WIJ are known as Outposts, and are named after colors.
Outpost Indigo
Edit
Main articles: Community:Outpost Indigo, and Outpost Indigo
This is WIJ's oldest and most well known fort. This fort is a rather unique, yet popular, fort among the ROBLOXian community. It has over 1,000,000 place visits. Indigo was built by Owen0202, but SilentSwords has the outpost on his profile. The guns are battery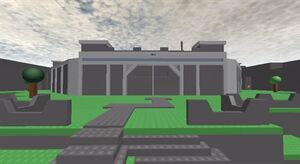 powered, which is unlike any other guns ever developed in ROBLOX. Also, in order to win a raid, raiders must access the base. This can be done by going through the cave in the side of the mountains, but in order to enter the cave, a raider must shoot down the force-field. Once the raider enters the base, they must arm the bomb for 90 seconds to win a raid. WIJ must un-arm the bomb in order to stop the raid.
Inside the base, there is the room containing the bomb, an armory, a jail, which are all protected by a wall. The raiders base, on the other side of the map, contains an armory and a fort in which WIJ or allies cannot enter.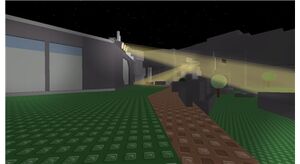 Outpost Indigo II was released on February 23, 2013, as apart of the WIJ developer project wARC. Indigo II hit the front page almost immediately, and stayed there for a few days. Built by both SilentSwords and Owen0202, the game followed a similar format to the original. Inside the base, there are four buildings, three of which are in a mountain. The first building is the largest, and is carved into the surrounding mountains. It contains the armory, jail, conference room, nerve room, and the MECAT teleporter, a cave where WIJ and the allies of WIJ spawn, and barracks. Players also have access to the room of the building. The second building, which is also carved into the wall, contains a rally room. The third building, which connects to the second, contains the terminal and the garage. A building detached from the other three contains a room that shows the four clans that WIJ has defeated in wars (The Robloxian Army, The Roblox Assault Team, The Allied Robloxian Troops, and The Raven Empire led by 2coolfireworks). The raiders spawn in a small fort at the edge of the map. The raiders' base cannot be entered by WIJ to prevent spawnkilling and the raiders' armory has all of the WIJ Trooper weapons for the same price.
Outpost VermillionEdit
This is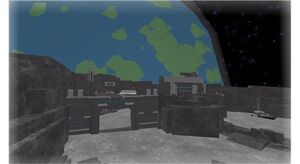 WIJ's third fort. It was released as a part of the WIJ project BiB. Outpost Vermillion was released along with new scripting and weaponry. Located on a moon known as Ero 4, this is WIJ's most advanced base. The WIJ base and Raiders' base are located on opposite sides of the map. The base is pretty small compared to the rest of the map. There are several molten lava falls dotted throughout the map. The WIJ base contains a spawn room, jail, offices accessible by only certain members of WIJ, a Core Room which contains a Core needed in order to capture the base, as well as an armory and a spawn room. The raiders' base is carved into the lunar rocks on the opposite side of the map. WIJ cannot enter this base to prevent spawnkilling. The base contains a raider armory as well.
SilentSwords sees this as a failed project. The performance was too bad.
This base is no longer used for official raids, as Outpost Cerulean has been revived. Read below.
This was known as one of the best forts in the history of C&G.
Outpost CeruleanEdit
This was one of WIJ's newer bases. It is a lot bigger and has a more modern look then Outpost Indigo does. Outpost Cerulean has about 300,000 place visits. This fort is the first WIJ fort to contain sectors. There are two sectors
within the fort. WIJ and allies spawn in the first sector, which also contains an armory, a jail, and multiple buildings. The second sector contains the flag that needs to be captured in order to win a raid. There are also two entrances for raiders to gain access, making the base even more fair. One is under the moat near the entrance for the first sector, and one is in the cliffs. To get into Sector 2 from Sector 1, raiders must take a path under the wall. Also, unlike Outpost Indigo, the raiders can also gain control of the armory located in the first sector as well as the main flag. This was revived and replaced Vermillion, as a popularity poll revealed that Cerulean was much more popular and in the user's opinions: "More user-friendly, like Indigo".
Castle Cobalt [Outdated]Edit
This is one of WIJ's oldest and hardest bases. It is actually a bunch of fortified compounds on a series of islands. Raiders and WIJ most capture the flags in the bases, and get credits in order to buy better weapons. Whoever gets more credits and captures all of the bases wins either a defensive or offensive raid. There were also 32 green cards to collect, which gave cash. Owen0202 has recently stated that a Castle Cobalt II could be created in the near future.
This fort is being planned by SilentSwords and Owen0202 as the next fort released in the wARC project. The fort would be located in a modern WIJ city in the sky. WIJ would spawn in an HQ building in the city that contains a spawn room, cargo area, multiple hallways, and a control room. The WIJ building would be connected to other buildings via unconventional methods such as a holes and passageways. A cargo transfer area with moving cargo contains would be located in a central location within the map. Raiders would spawn in a trade center connected through multiple passageways. Air vehicles would be added into the fort as well. The fort has yet to be named or constructed; the fort is currently a concept.
Troopers form the majority of WIJ. They are WIJ's backbone. You become a trooper when you join. Be active in the clan for a chance to be promoted. There are over 39,000 members in the group. 
OperativeEdit
Operative are Troopers that have shown skill in trainings and getting cP. Operatives are fully fledged members that command respect.
Corporals are Operatives that have shown to be loyal and devoted to WIJ. They are not quite ready for leadership, but they have still earned the respect of the higher ranks.
The first rank of authority. They have been picked for their leadership qualities. They can begin to command the lower ranks in outposts.
Officers are high ranks in a position of power. They organize the group, lead raids and training sessions. They sometimes also help the colonels. Officers also have 25 Overhealth shields at Indigo II. This has usually a negative affect, and has caused a lot of negative criticism. But WIJ claims that they earned it and it are just 2-3 shots that make the difference.
Colonels are the higher command of WIJ. Very few WIJians will ever reach the rank of Colonels as all of them are trusted entirely by the Marshal and the Chairman. Colonels and Brigadiers focus on general administrative duties, however, they are now being given specific duties.
Lucario1611: Chief of Staff (ST)
JuHDude: Academy Commandant (STA)
AmazingAnt: Chief Liaison Officer (manages Officers)
Dizzdazz4: Chief Outreach Officer (handles complaints and mentors new officers)
Videogame5: Consul General (handles alliances)
BrigadiersEdit
The Brigadiers are equal in status to Colonels and receive no extra benefits. In the past they were given their own branch to lead, however, the branches have since been removed. Just like the Marshal, their loyalty lies only with WIJ and he/she works very closely with the Chairman, Marshal, and the Colonels to keep the group running.
The Marshal is the second in command in WIJ. His loyalty lies only with WIJ and he works very closely with the Chairman and the Higher Ranks to keep the group running. The current Second in Command of WIJ is Owen0202 .
The Chairman is the leader of WIJ. He has the important function of overseeing and leading everything. The current chairman of WIJ is SilentSwords .
DivisionsEdit
Like most super-clans, there are lots of unofficial divisions. WIJ is known for how strict it is about sub-groups. The divisions listed here are the official divisions of the group, owned by SilentSwords himself. Sometimes, though, members can get a squadron approval by a Colonel if you have 10+ People and they say it is Legitimate.
Shock Troopers AcademyEdit

Shock Troopers Academy (STA) is the only accepted method of learning the skills of Shock Troopers, and eventually becoming one. Members must graduate the academy in order to join the official Shock Troopers Division. Many enter, few succeed. STA is now Lead under the Command of WIJ's Academy-Commandant JuHDude.
Shock TroopersEdit

The Shock Troopers are the most elite troops in WIJ, and host the main division's final battle team. Often seen helping the regular troopers, they can be distinguished by their darker battle armor. Shock Troopers are used in WIJ final battles and are renowned for being undefeated in any battle against any other clan. Groups WIJST have defeated in a battle include: TRA, RAT, TRE, LS, SM, TGI Grens and many more.
WIJ High CommandEdit

This is a group for the high ranks of WIJ. Commonly referred to as "HiCom", the purpose of the group is to discuss top secret information, and to keep the information secret. They are in charge of the personnel, equipment, and facilities within WIJ. The information shared in this group is often top secret, and it is a punishable act if any information of the group is leaked.
Notable WIJ Development ProjectsEdit
Back in Business (BiB)Edit
Project Back in Business (BiB) is an recently released project for WIJ. This project is designed to bring new members to WIJ, and make the group more active as well. BiB was built by SilentSwords and Owen0202. It included the release of a new base (Outpost Vermillion), new and updated weaponry, and new technology. Several things that were released for BiB have never been attempted on Roblox before. BiB was released to a very mixed response. However, Outpost Vermillion was sometimes criticized for not being fair. The release of BiB brought lots of activity to WIJ.
Project wARC is the newest WIJ development project. The first phase of the project included the development of Indigo II and a new set of weapons. The first phase was released on February 23, 2013. Colbalt II, Sinopia II, and a new fort are all being planned as the next wARC projects to be released.