On the ROBLOX Website, you are allowed to create a party or join parties that allow you to communicate with multiple users, similar to the
chat
feature. When the leader of the party joins a server, everybody in the party are forced to join as well.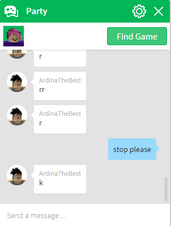 In 2015, this feature was overhauled and is no longer available to people not on your friends list.
Creating a party
Creating a party is a simple process.
Open up the 'Chat' button.
Click create chat group (invite someone) then click the game controller button to turn it into a party
Then click on the Gear to view party settings.
Join a game and everyone will automatically follow you.
Ad blocker interference detected!
Wikia is a free-to-use site that makes money from advertising. We have a modified experience for viewers using ad blockers

Wikia is not accessible if you've made further modifications. Remove the custom ad blocker rule(s) and the page will load as expected.