This page has a lot of outdated information, please feel free to edit.
There are a bunch of different customizations you can make on the ROBLOX website that will change how your page looks and feels. These customizations are called
themes
.
How do I change them?
Changing themes is simple. First, you go to your account section in your ROBLOX page.
You then look for something that looks like the picture on the right.

You have three immediate themes available to your selection. The default theme is ROBLOX 3.0. There are two extra themes available to only Outrageous Builders Club members.
Below is a chart which displays the themes and specifications about them.
Theme
Pros
Cons
ROBLOX 3.0

New look and feel
Dynamic Header Image
Images instead of blocky look

Takes longer time to load

Outrageous 2.0 (OBC Only)

New look and feel
Unique, black background compared to the standard user's blue background.
Loads relatively faster than ROBLOX 3.0

Only available for Outrageous Builders Club members.
Not available
Trivia
This section is a trivia section. Please relocate any relevant information into other sections of the article.
Although the OBC theme isn't currently available, it is still available via ROBLOX+.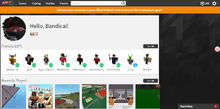 Ad blocker interference detected!
Wikia is a free-to-use site that makes money from advertising. We have a modified experience for viewers using ad blockers

Wikia is not accessible if you've made further modifications. Remove the custom ad blocker rule(s) and the page will load as expected.